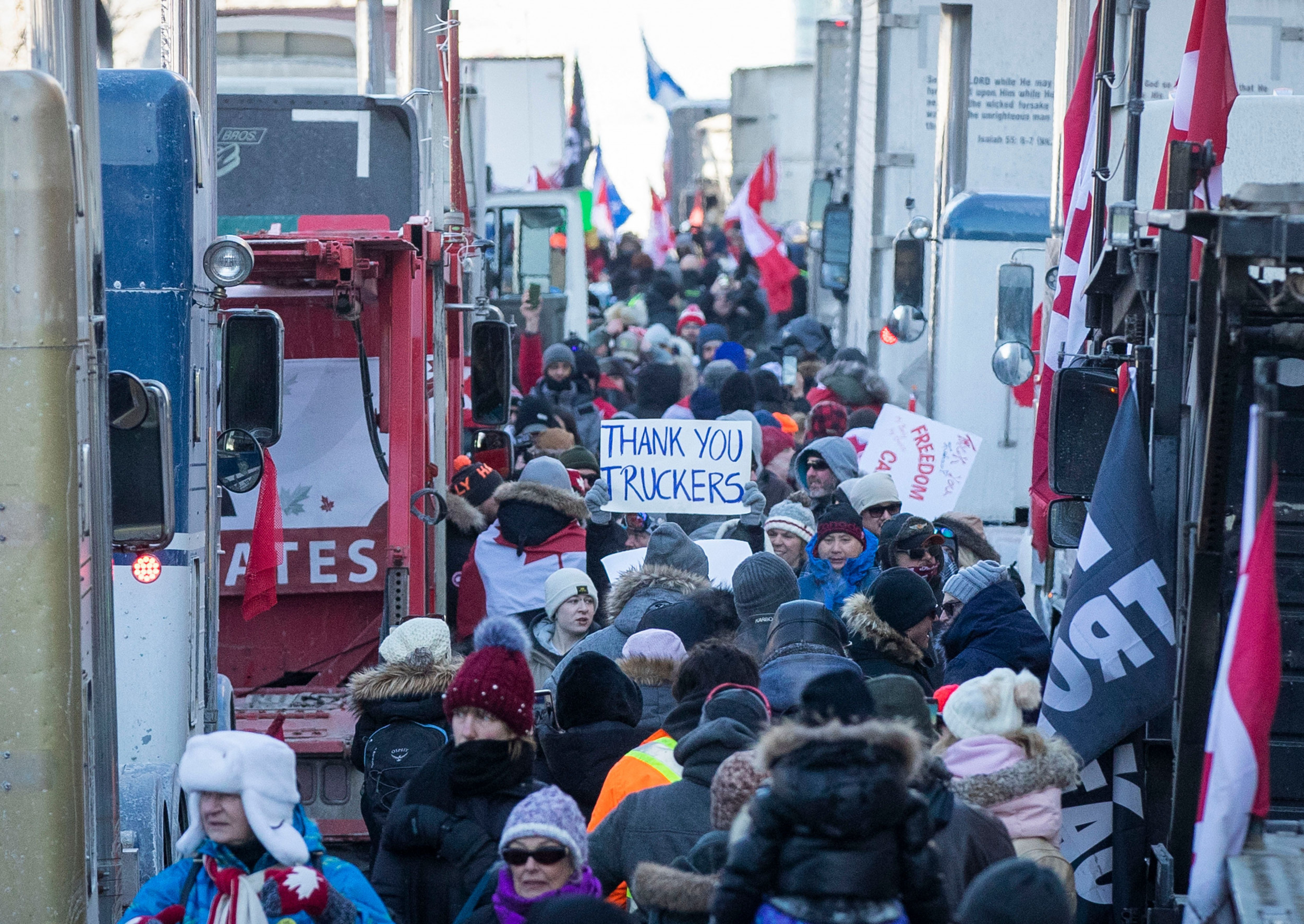 Video shows Canadian anti-mask protester berating hotel staff after denial of service
Video posted to social media shows a protester from this weekend's anti-COVID mandate rally in Canada berating hotel staff after they were refused service for not wearing a mask.
"We came here to help get rid of people, like you, of your tyrannical shit," an unmasked man is heard saying to an employee behind the hotel lobby reception. "You are a bully and you are so pathetic in life."
He then turns to another masked staff member, whom he asks, "What are you going to do? What are you going to do?"
When the second employee replies that he is just watching, the protester turns to the man in the office and says: "You are so pathetic in life that you have nothing better to do than to apply the mask, you know that?It makes you feel good about yourself.
The original staff member is then seen moving from behind the desk to escort the unmasked man out of the lobby.
"It's disgusting," the man told the hotel clerk. "So now you're gonna kick us out in -30 [degrees Celsius]."
Before leaving, he adds, "You'll answer God. Yes, you will and he'll send you straight to fucking hell."
Above the video is a caption that reads "no mask, no room".
Thousands of people demonstrated on Parliament Hill in Ottawa, Canada, on Saturday in an effort to join cross-border truckers who have demanded the federal government roll back its vaccination mandate on the workforce.
On January 15, a new mandate came into effect requiring truckers to be fully vaccinated. The Canadian Trucking Alliance estimated the new law would take 10-15% of commercial truckers off the road.
Saturday's rally grew heated after protesters were seen desecrating various memorials and statues of national heroes.
Ottawa police have opened multiple investigations into the protest, including "threatening/illegal/intimidating behavior toward police/city employees and others and damage to a city vehicle."
Many protesters reportedly struggled to find housing and food in the city during the protest due to their refusal to cooperate with the provincial mask mandate. Some were spotted harassing volunteers at a local soup kitchen for free food after they were barred from entering Ottawa restaurants.
In Ontario, people over the age of two are required to wear a mask in all "public indoor spaces and whenever physical distancing is a challenge."
Last week, Ontario Premier Doug Ford said he doesn't see the mandate being lifted anytime soon, although the latest wave of reopenings in the province began on Monday.
On January 31, restaurants, gyms and cinemas reopened to indoor customers with certain capacity limits. Ford said it hopes to lift all restrictions by mid-March.
In a statement released Monday, Ford said, "The right to peaceful protest is central to our Canadian identity.
"However, I was extremely disturbed to see certain individuals desecrate our most sacred monuments and brandish swastikas and other symbols of hatred and intolerance this weekend," the Prime Minister continued. "It has no place in Ontario or Canada. Not now. Ever."
Ottawa police are still patrolling downtown and advising residents to avoid the area where many weekend protesters have stayed in the week.