Prohibited entry! –James Faulkner Damages Hotel Property, Blames PCB for Contract Payments
On the one hand, where the Pakistani Super League is coming to an end, on the other, things have gotten out of control with the versatile Aussie James Faulkner. Yesterday, with the sudden departure of James Faulkner, everyone was shocked and wreaked havoc on the internet.
Faulkner claimed he was parting ways due to a contractual agreement regarding payments. He represented Quetta Gladiators this season and most people call him his immature move.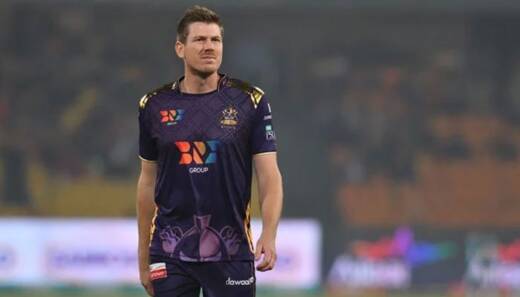 Soon he decided to quit the team, he posted various tweets explaining the whole storyline and apologized to Pakistani cricket fans.
He fully blamed Pakistan Cricket Board and PSL for his withdrawal from the tournament. Even PCB also issued strong statements in its defense and cleared the air.
James Faulkner quit Pakistan Super League – Want to know why?
According to James, "I apologize to Pakistan Cricket fans. But unfortunately I had to withdraw from the last two games and leave @thePSLt20 due to @TheRealPCB not honoring my contract agreement/payments," said James. he said on Twitter.
"I've been here all this time and they (the PCB) kept lying to me," he said.
He added: "It hurts to leave as I wanted to help bring international cricket back to Pakistan because there is so much young talent and the fans are amazing."
"But the treatment I received was a disgrace from @TheRealPCB and @thePSLt20," he said, expressing hope that "you all understand my position."
The PCB's rebel response
In response, PCB also shared their position. They denied all of James Faulkner's allegations and called them "false and misleading". "The PCB and Quetta Gladiators have taken note with regret of the false and misleading accusations made by Mr. James Faulkner and will issue a detailed statement on this matter shortly," a tweet from the board said.
Later, PCB and Quetta Gladiators released a joint statement in which they claimed "Faulkner was guilty of misconduct and announced that he would be banned from future PSL projects".
The official statement posted on the PCB's website stated that Faulkner's "allegations of non-payment and mistreatment were 'unsubstantiated' and underlined that no player had ever complained about failure to meet the contractual obligations of the PCB in seven years of PSL."
Furthermore, "Faulkner's agent had confirmed in December last year the details of a United Kingdom (UK) bank account for the payment transfer."
As per PSL policy, all players receive 70% when they sign the contract. This is also what happened with Faulkner. The 70% amount was transferred to his offshore bank account in the UK and receipt of this payment was acknowledged by Faulkner, the statement added.
"Faulkner threatened us" – PCB
According to the other statements, "As a result, the payments due to Mr. Faulkner pursuant to his contract are fully up to date," the PCB maintained in the statement.
He added that "the remaining 30% of his contractual payment does not become due until 40 days after the end of the HBL Pakistan Super League 2022, which now remains a matter for review in accordance with his contract."
"Despite the money being transferred and received in his account, Mr. Faulkner continued to insist that a second duplicate payment of the same amount be made to his account in Australia," the advice said. "That meant Mr. Faulkner would have been paid twice."
The board also shared that, that Faulkner "threatened and refused" to participate in the match between Quetta Gladiators and Multan Sultans on Friday, "until his demands for money were met".
"The PCB, as a responsible organization, engaged early on with Mr. Faulkner [on] Friday afternoon to try to reason with him. Despite his objectionable and insulting behavior during the conversation, Mr. Faulkner was assured that all of his grievances would be addressed," the council said.
However, they tried to convince him, but Faulkner refused, "reconsidered his decision to take the field in a crucial match for his team, let his team down and demanded that his travel arrangements be made immediately".
"During this time, the PCB was also in constant contact with his agent, who was sorry and apologetic."
On Saturday morning, Faulkner also damaged hotel property, "caused willful damage to hotel property and as a result had to pay damages to hotel management."
"The PCB also later received reports and complaints from immigration authorities that Mr. Faulkner had acted inappropriately and abusively at the airport," the board added.
No entry for Mr. Faulkner – PCB
After all of this, the PCB officially announced that "As a result of the above, and taking serious note of Mr. James Faulkner's gross misconduct which was an attempt to bring the PCB.
Pakistani cricket and the HBL Pakistan Super League are discredited, it has been unanimously agreed by the PCB and the franchises that Mr James Faulkner will not be drafted in future HBL Pakistan Super League events.
But who will replace Faulkner, although the board and the authorities did not wait long to find the replacement. Mohammad Shehzad, 18, has been named James Faulkner's replacement for the rest of the HBL PSL.
Undoubtedly, this is going to create a big impact on the Pakistan vs Australia series, as it all looked like a publicity stunt to present PCB with a negative side. The Pakistan Super League is one of the most watched and famous leagues in the world of cricket. Soon the schedule was announced, people buckled up to support their team.
What do you think of the story? Tell us in the comments section below.