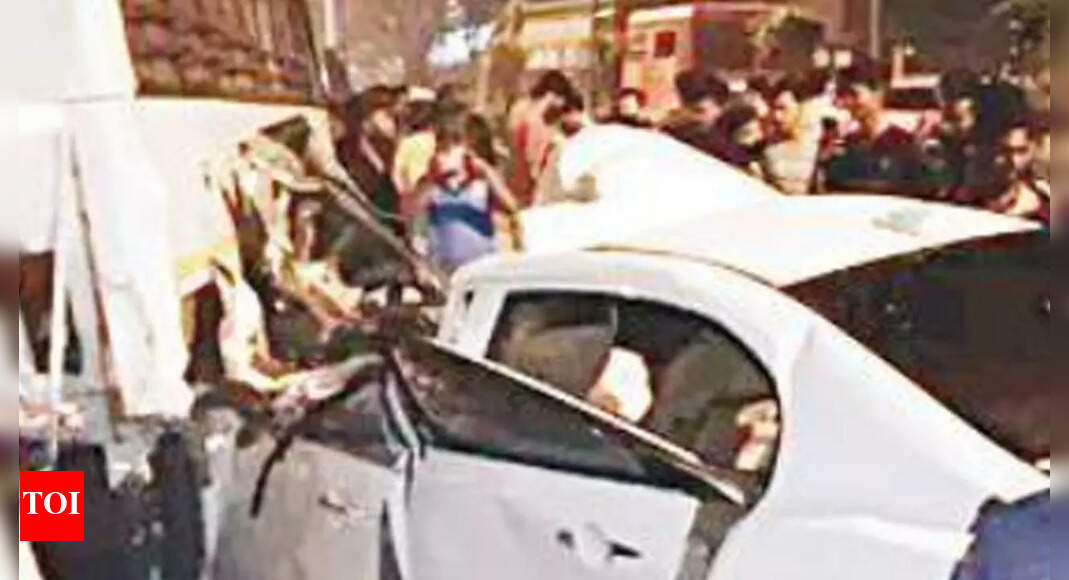 Mumbai: Woman and hotel staff member killed as car slams into parked bus | Bombay News
MUMBAI: A woman in a speeding car was killed while a hotel worker who was walking on the road also died after the vehicle rammed a mini bus parked on Gorai Road in Borivli (West) Wednesday.
The accident happened after midnight and involved five friends who were returning from celebrating a birthday party at a Borivali hotel.
Police booked Rohit Mukherjee (28), who was driving. Four other occupants of the car are recovering in different hospitals. Mukherjee, who was convicted under Section 304(2) of the Indian Penal Code (culpable homicide not constituting murder), will be arrested once he is discharged from hospital.
Hotel employee Prashant Warekar (45) was thrown in the air after the speeding car hit him; He died instantly. Warekar worked at the same hotel where the five friends celebrated their birthdays. "There were five people in the speeding car, including two women, all in the 20s and 30s age bracket. One of the women, seated in the back seat, died. Blood samples from Mukherjee and other survivors were taken to determine if they were drunk. The medical report is awaited. They were returning home after celebrating a birthday party," Borivli Police Chief Inspector Sudhir Kalekar said.
Warekar, who suffered multiple injuries, was rushed to hospital after the crash but was pronounced dead. Meanwhile, the woman, Abhigel Jadhav (21), who was sitting in the back seat, suffered serious head injuries and died in hospital. Police said the crash happened around 11:30 p.m. on Gorai Road near the bus depot. "The youngsters were returning from the Gorai Hotel Club when the car hit Warekar and he flew about 20ft in the air and fell onto a footpath on the other side of the road. Later, the car rushed into a bus parked on the corner of the road," local BJP corporal Shivanand Shetty told TOI.
Shetty said others in the car escaped with only injuries when the airbags deployed.