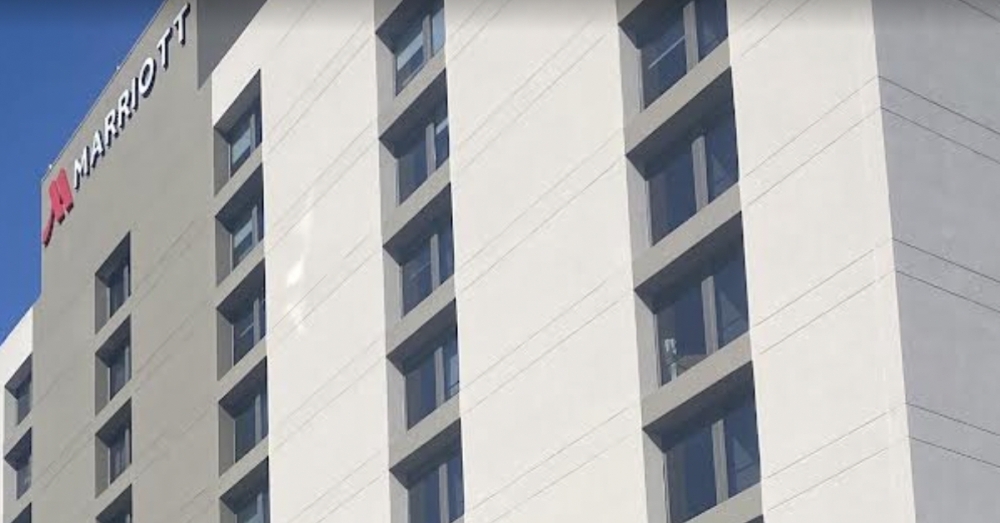 Marriott Opens Reimagined Hotel Near San Antonio Airport
The Marriott San Antonio Airport Hotel opened April 14 on a former Holiday Inn site, 77 N. Loop 410 E. (Courtesy Marriott)
The Marriott San Antonio Airport Hotel held a grand opening on April 14 at 77 NE Loop 410, following a revamp of a former Holiday Inn near San Antonio International Airport.
According to a press release, the Bricton Group and Gettys Group companies have partnered to redevelop the former Holiday Inn site in a project that included reconfiguring the space and building a 367-room hotel. rooms including a "great hall" with space for meeting and networking. , an indoor-outdoor bar, outdoor pool with water features, and extensive dining, meeting, social, and event space.
Other features of the new North Side hotel include a state-of-the-art fitness center, communal tables with plug-and-play technology for working and collaborating, an outdoor terrace for meetings and events, an elevated lounge for Marriott Bonvoy members , and a take-out food market, free airport shuttle service, and breakfast buffet in the morning.
Bricton Group officials said the Marriott San Antonio Airport Hotel is the third major redevelopment of a Marriott property overseen by the Bricton Group.
"The other two are award-winning hotels and we hope this one will enjoy the same success. Bricton's culture is based on recruiting and developing the best team members and San Antonio continues that tradition," said Bricton Group President and CEO Edward Doherty. "Guests of Bricton-managed hotels can expect top-notch service and we look forward to providing that quality and level of service to the San Antonio community."
According to the release, the new Marriott hotel has more than 15,000 square feet of flexible event and meeting space, including a Grand Ballroom, a Junior Ballroom and 19 flexible meeting spaces. Additionally, the Pearl Conference Room and Alamo Heights Ballroom combine indoor and outdoor spaces.
Chairman of Gettys Group Companies Andrew Fay said his company and Bricton aim to create a sense of place and reflect San Antonio culture in the new hotel with expansive spaces and color schemes and patterns throughout the building.
"The history of San Antonio informed every design decision within the hotel: the textures, the lighting, and the colors," Fay said. "Even the event spaces have been named after esteemed San Antonio neighborhoods: La Cantera Ballroom, Pearl Boardroom, Alamo Heights Jr Ballroom, Hill Country Conference Center. All of this makes the urban renewal of this special property an extension of what is San Antonio and what the city has to offer.
"Adaptive reuse of an existing building requires a unique skill set and we are thrilled with the result: a new, state-of-the-art hotel that aligns so well with the City of San Antonio's sustainability policies," said Doherty.
The statement says the hotel's indoor-outdoor bar, Agave 210, will be flanked by a glass-enclosed garage door and will offer cocktails as well as Southwestern-inspired cuisine for lunch and dinner.
Marriott San Antonio Airport has hired 90 employees to date and will employ 120 people when full, according to the release.
"We are delighted to partner again with the Bricton Group to deliver an exceptional project, bringing elevated offerings to the San Antonio market," said Roger Hill, Chairman and CEO of Gettys Group Companies. For more information, visit www.marriott.com/hotels/travel/satma-marriott-san-antonio-airport.