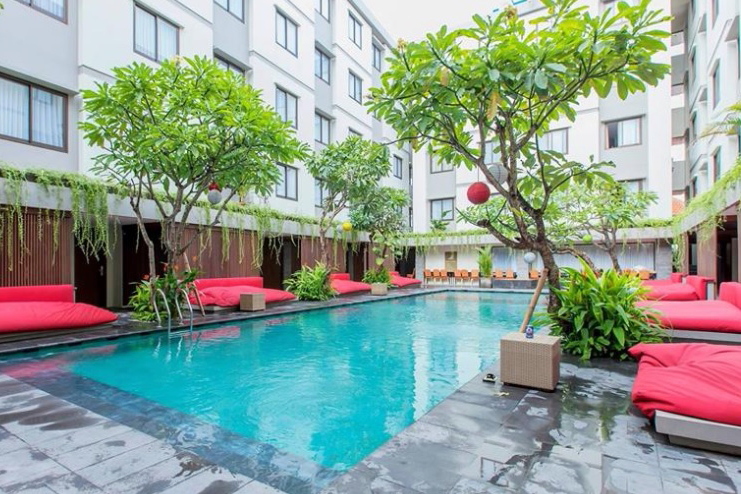 Indonesian group Artotel acquires Dafam Hotel Management
(Dec 08, 2021)
The Indonesian group Artotel has finalized the acquisition of Dafam Hotel Management.
The agreement means that the 24 Dafam hotels, totaling 2,507 rooms, are now part of the Artotel group's portfolio.
Earlier this year, Artotel also acquired the management of Kyriad Hotel Indonesia, licensee of Kyriad Hotel Brand, one of the brands owned by the French group Louvre Hotels. The Kyriad offer includes 11 hotels in Indonesia.
Dafam Savvoya Seminyak Bali Hotel
The acquisitions mean that Artotel now has 50 hotels with more than 5,000 rooms in 24 cities in Indonesia.
Erastus Radjimin, Founder and CEO of Artotel Group, said: "We did not want to passively wait for the end of the pandemic, so we took the initiative to acquire properties from Dafam Hotel Management and Kyriad Hotel Indonesia to pursue our dream. to create a hotel ecosystem in Indonesia that can help hotels support each other in maintaining high service standards as well as expand our range of markets, both domestic and overseas. "
The acquisitions were made through the completion of an undisclosed Series B financing by Indies Capital Partners, a leading alternative asset manager in Southeast Asia.
The proceeds from the financing will also be used to strengthen the group's technological base infrastructure.
Artotel also secured Series B funding from Benson Capital, an angel investor focused on the creative industries.
Prior to the round of Series B funding, Artotel received a Series A investment injection from Intudo Ventures, an independent venture capital firm.
Financial details of the acquisition were not disclosed.