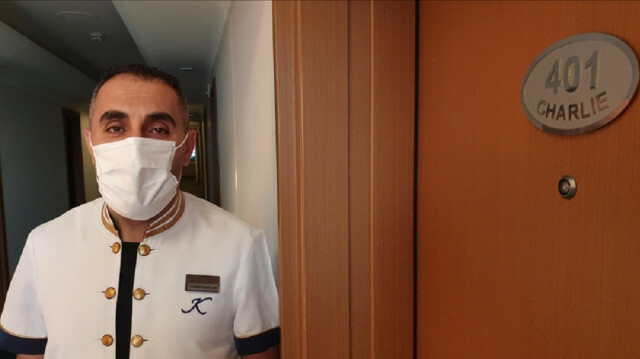 British tourist offers part of his heritage to Turkish hotel staff
Charles George Courtney, who stayed at the same hotel in Kusadasi every year, died in 2017

Employees at a hotel in southwest Turkey were surprised when a British tourist they had served for years remembered them before his death.
Charles George Courtney, who has stayed at the Kusadasi District Hotel in Aydin Province every year during his vacation since 1997, has formed close friendships with the hotel staff.
Courtney was treated at a hospital in Izmir province after falling ill in 2014.
Hotel employee Taskin Dastan and his colleagues visited him in the hospital.
After Courtney passed away the same year, Dastan and his 10 friends received a letter from the UK in 2017. They became moved when they saw Courtney sent them money.
Dastan told The Anadolu Agency that his friendship with Courtney, who stays at the hotel twice a year, began in 1997.
Noting that he couldn't forget the conversation they had in the hospital, Dastan said, "He was very spiritual and kind. He told us that he wanted to give us financial aid for the education of our children. I didn't take it too seriously until I got the letter from the consulate. He also left some help with a friend of mine who works at the hotel. "
Courtney allocated nearly 50,000 Turkish Lira ($ 6,030) to Dastan from his inheritance.
The room Courtney had regularly stayed in each year was named "Charles" by hotel management after her death.
* Written by Zehra Nur Duz