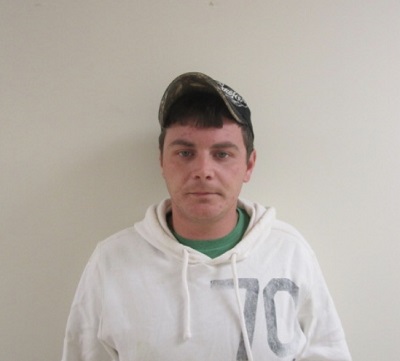 Breck Co. felon refuses to leave Falls of Rough hotel property, refuses help, arrested for second time since February for meth
A Breckinridge County felon has been arrested by the Grayson County Sheriff's Office after refusing to leave private property and being found with methamphetamine.
Grayson County Sgt. Fred Norder and Deputy Nick Pruitt responded to a domestic disturbance Sunday evening at 5:30 p.m. at the St. Clair Hotel in the 13000 block of Falls of Rough Road.
Upon arrival, police determined that a non-violent domestic disturbance had occurred, but the owners of the property requested that the man involved in the disturbance, 27-year-old Michael C. Compton, be evicted from the property, according to the arrest citation.
(The woman involved in the disturbance left the scene before police arrived. She was, however, questioned by Pruitt during a traffic stop near the St. Clair Hotel.)
Norder asked Compton to leave the property "several times," the quote reads, but Compton "refused to leave."
Norder then encouraged Compton to stand across the street, but the suspect again refused, "stating to (Norder) that he was going to stand wherever he could get a signal for his phone." Norder, the quote says, even offered to take a ride to Compton, but he declined.
Compton continued to refuse help and leave the property, leading Norder to place the suspect under arrest. But Compton resisted, pulling away from Norder, with the sergeant using "moderate force" to handcuff the suspect.
During a search in Compton, police found methamphetamine.
He was charged with Possession of a Controlled Substance (Methamphetamine), Resisting Arrest, Second Degree Disordered Conduct and Third Degree Criminal Trespass and was incarcerated in the Grayson County Detention Center.
Compton, according to the Kentucky Department of Corrections, was convicted in Breckinridge County in 2017 for possession of a controlled substance (methamphetamine).
He was arrested in February 2021, also in Breckinridge County, and charged with possession of a controlled substance (methamphetamine).
By Ken Howlett, News Director
Contact Ken at [email protected]