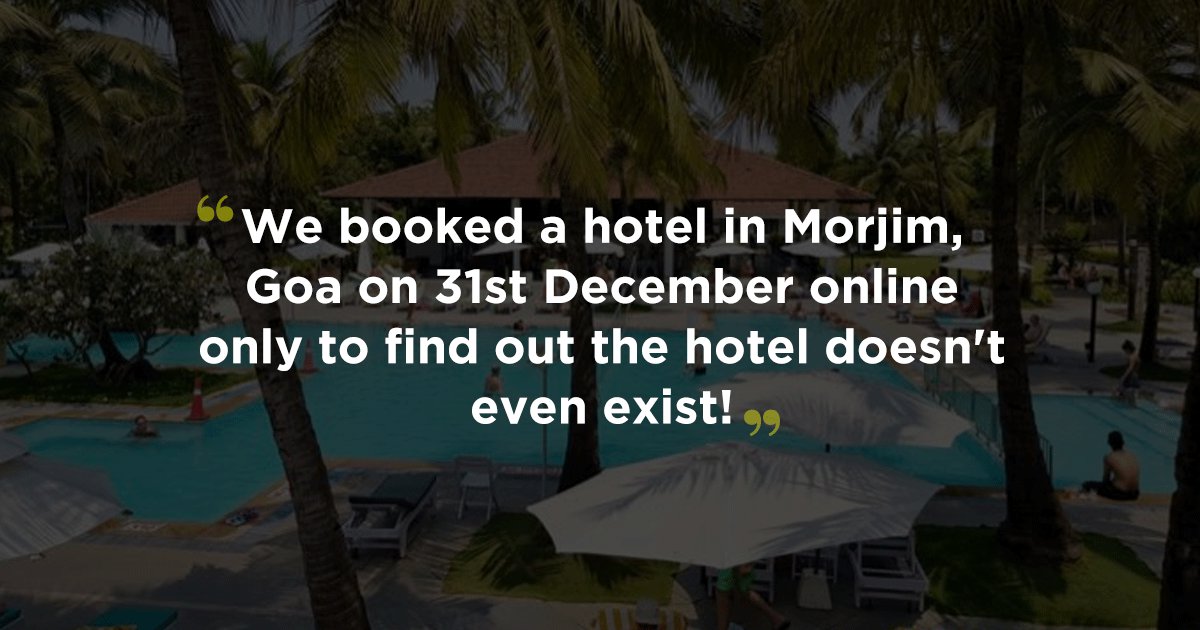 9 of the worst hotel reservation experiences that will make you think twice before you book online
Traveling is fun. But only until you stay in a good hotel and everything is going well. Despite all the planning, people's experiences with hotel reservations are not always good.
What's wrong ? Read first-hand experiences of hotel reservation gone wrong.
1. "We booked a hotel in Jaipur online through the hotel website and paid the full amount in advance for three days of booking. On the day of our reservation we arrived around 11:20 am and showed up to the manager receiving our reservation slip and he asked us to wait while our room got ready.After about half an hour when I asked again I was told there was a problem with our payment. I showed him my transaction receipt but he said, "We haven't received the payment so we can't give you the room." After a lot of noise, they didn't give us the room. room and we had to book a room at another hotel. " – angshumanda
2. "This happened in Alappuzha, Kerala. My boyfriend and I chose a hotel because of the lake view. We had booked the room through an online portal about a week ago. It was clearly mentioned. in the app that the hotel was a "friendly couple". We went to the hotel and showed the ID of the reservation. The guy at the reception started to ask us if we were married why let's visit each other, where is my hometown etc. He even told us that, this is not a place for a casual meeting. We immediately called customer service, but no effective action was taken. " – Anonymous
3. "I had a bitter experience with an online booking portal. I booked a room for my parents and made it clear to them that we are foreigners (from Bangladesh). The hotel staff have even sent a rental car to pick up my parents from the airport. When my parents arrived at the hotel, they said strangers are not allowed. It was such mental harassment. – Facebook user
4. "We booked a hotel in Morjim, Goa on December 31st through an online portal. Only to find out that the hotel does not exist and it was a scam." – Facebook user
5. "My family and I arrived in Hanoi (Vietnam) and took a taxi from the airport. We had already chosen a hotel and told the taxi driver to take us there. A guy came over to us, d 'after what we thought was the hotel to tell us they are full but have a sister hotel just around the corner. It was late at night and we ended up staying in a crappy hotel for a few days." – Reddit
6. "One of the hotels on our honeymoon was booked through a reputable website. When we got there around midnight, there was no hotel, just a small neighborhood apartment with no no one to open the door. We called the reservation number, but it was disconnected. We called the reservation company, but quickly realized that they would not be of any help and the wait time was quickly building up. international fees. A local bar owner then helped us. "- Reddit
7. "Very bad online booking experience. The hotel refused to have the rooms we reserved." – Twitter
8. "I had made a formal reservation at Diamond Stays in Noida through an app. And when I arrived at the hotel at midnight, I was refused check-in. I was even forced to check in. to stay out on the road with no other experience. " – Twitter
9. "Extremely bad experience with an online platform. Despite the confirmation, well in advance to the Hilton Jaipur, the hotel refused the reservation. According to the hotel, no reservations were received from the portal . " – Twitter
The problem with bad experiences is that they are always intact in your memories. Do you have such bad hotel experiences to share?